Would you like to share in Gary's mission to spread the "Good News" of Jesus Christ? Your purchases from any of the following links will help fund his work as a FULL TIME Catholic Evangelist and is GREATLY needed and appreciated!
This is truly the best coffee I've ever tasted, made by authentic Carmelite monks…

Using this link to Amazon.com results in a profit for Following The Truth for every item you purchase! (Gary Zimak is a participant in the Amazon Services LLC Associates Program, an affiliate advertising program designed to provide a means for sites to earn advertising fees by advertising and linking to Amazon.com)

The Worrier Warrior Series by Gary Zimak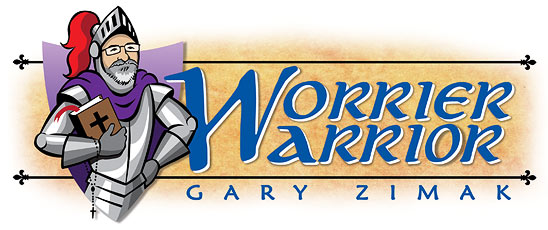 NOTE: AFTER ORDERING MP3 DOWNLOAD, AN EMAIL WILL BE SENT WITH A LINK TO THE FILE. FOR INTERNATIONAL CD ORDERS, ADDITIONAL SHIPPING CHARGES WILL APPLY.

Pray, Hope and Don't Worry! (60 minutes)
Recorded live at Sacred Heart Parish in Riverton, NJ, this talk focuses on the elements of the famous quote by Saint Padre Pio. Learn how to eliminate useless worrying from your life and replace it with actions that will truly help you. Although Jesus never promised to take away all of our problems, He did promise to grant us peace. Gary will lead you through the steps that have allowed him to break free from worrying. He will also reveal the "Secret Weapon" that should be known to every worrier!
(Audio CD, $6.00 plus $2.00 shipping/handling)
(MP3 download, $3.00)

Holding Your Mother's Hand (60 minutes)
If you're someone who worries or suffers from anxiety, you need to become aware of the "Secret Weapon"! While suffering and dying on the Cross, Jesus gave EACH OF US an extraordinary gift…A HEAVENLY MOTHER. Learn how to turn to Mary in times of stress and difficulty. Using the Biblical story of the wedding at Cana, Gary will illustrate how Mary can assist you in your time of need.
(Audio CD, $6.00 plus $2.00 shipping/handling)

(MP3 download, $3.00)


Five Ways To "Untrouble" Your Heart TODAY! (60 minutes)
Do you have trouble putting Jesus' words from John 14:1 ("Let not your hearts be troubled") into practice? Using Bible verses, advice from the Saints and his own personal experience, Gary offers five simple ways to experience the Lord's peace…even in the midst of turmoil!
(Audio CD, $6.00 plus $2.00 shipping/handling)

(MP3 download, $3.00)


Give Up Worrying For Lent (60 minutes)
Why not give up worrying for Lent? Using a simple theme for each week of Lent, let Gary help you give up worrying and grow closer to the Lord. Each week's exercise is designed to replace worrying with something that will bring you closer to Christ. Although designed for Lent, the techniques taught in this talk can be used year round!
(Audio CD, $6.00 plus $2.00 shipping/handling)

(MP3 download, $3.00)

Psalms Of Comfort (60 minutes)
Join Gary as he reads and discusses his favorite "comfort" Psalms. If you find yourself worried and anxious, this talk may be just what you need. By allowing the Lord to speak to you through the Bible, you will feel a supernatural peace that the world can not provide.
(Audio CD, $6.00 plus $2.00 shipping/handling)
(MP3 download, $3.00)