NOW AVAILABLE!!!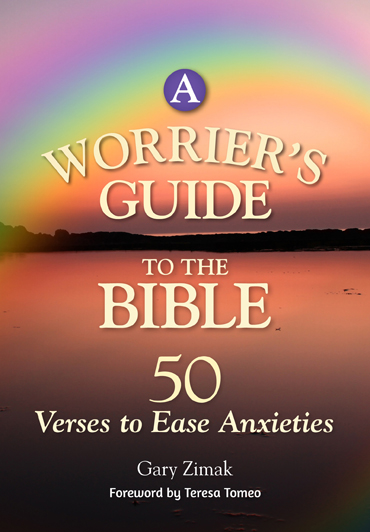 ORDER BELOW!
"While there have been many apologetics books written about defending and explaining various doctrines and beliefs, I don't know of any book that tackles a topic so timely and familiar to so many of us. This book is a keeper; one to keep on the night stand or on the kitchen table, close enough to grab when we need that daily dose of knowing that God is nearer than we think."
(Teresa Tomeo, author, syndicated Catholic talk show host, and motivational speaker)
"Worrying robs us of all the goodness God wants to pour out upon us in the present moment. Let Gary Zimak guide you through the Bible in a truly creative way so that you can live a worry free life."
(Matthew Kelly, New York Times bestselling author of Rediscover Catholicism and The Four Signs of a Dynamic Catholic)
"Twas grace that taught my heart to fear, and grace my fears relieved. We sing it, but do we know it in our bones? God wants us to — and that's why he's called Gary Zimak to write this book. We cannot live a fearless life, nor should we want to. Worry has a purpose, and if we learn its purpose we can worry in peace in a world made and sustained by our Father God. Imagine that — worry as a spiritual discipline."
(Mike Aquilina, EWTN Host and author of over 30 books on Catholic history, doctrine and devotion)
"This book is an EXCELLENT guide to the LIGHT we so desperately need in these dark times. Gary reflects in this book, no matter WHAT, Jesus will always make a Way out of no way. When I read this book all I can say is, 'Jesus, I Trust in YOU!'"
(Catholic Evangelist Richard Lane, www.CatholicEvangelist.net)
"Ask most of us if we worry, and we'll share with you our laundry list of concerns about everything from our families, to our work, to the future and beyond… it's a burden shared by even the most faith-filled among us. That's why "A Worrier's Guide to the Bible" by Gary Zimak has such great relevance for anyone living in today's multi-tasking world. Employing the timeless truths of scripture in a way that is fresh and current for today's spiritual seekers, this book should be a "go to" resource for anyone in search of true peace amidst life's greatest challenges."
(Lisa M. Hendey, Founder of www.CatholicMom.com and author of A Book of Saints for Catholic Moms)
"Gary offers a personal, down-to-earth approach to something we all wrestle with. He shares from his own experience and from Church teaching in an approachable, engaging style. Worry is a universal habit, and I'm happy to recommend A Worrier's Guide to the Bible to anyone who wants to worry less and trust God more."
(Sean Herriott, Host and Managing Editor of Morning Air on Relevant Radio)

Do you worry about ideas, moments and situations incessantly? When you listen to Scripture, do you wonder if it is truly possible not to worry?
Gary Zimak writes that "anxiety can be a blessing". If you are wondering what he means by this, then this is the book for you. Consider what the Word of God teaches us on the subject of worry in times of confusion, despair, doubt, fear, persecution, sickness, and troubles.
Zimak brings Scripture to life in A Worrier's Guide to the Bible: 50 Verses to Ease Anxieties. Though our lives are filled with struggles that might seem endless or insurmountable, remember that we are an Easter people; a people of hope. So as Padre Pio emphatically proclaimed: "pray, hope, and don't worry"!

Order Now From Amazon!
Print Version
Kindle Version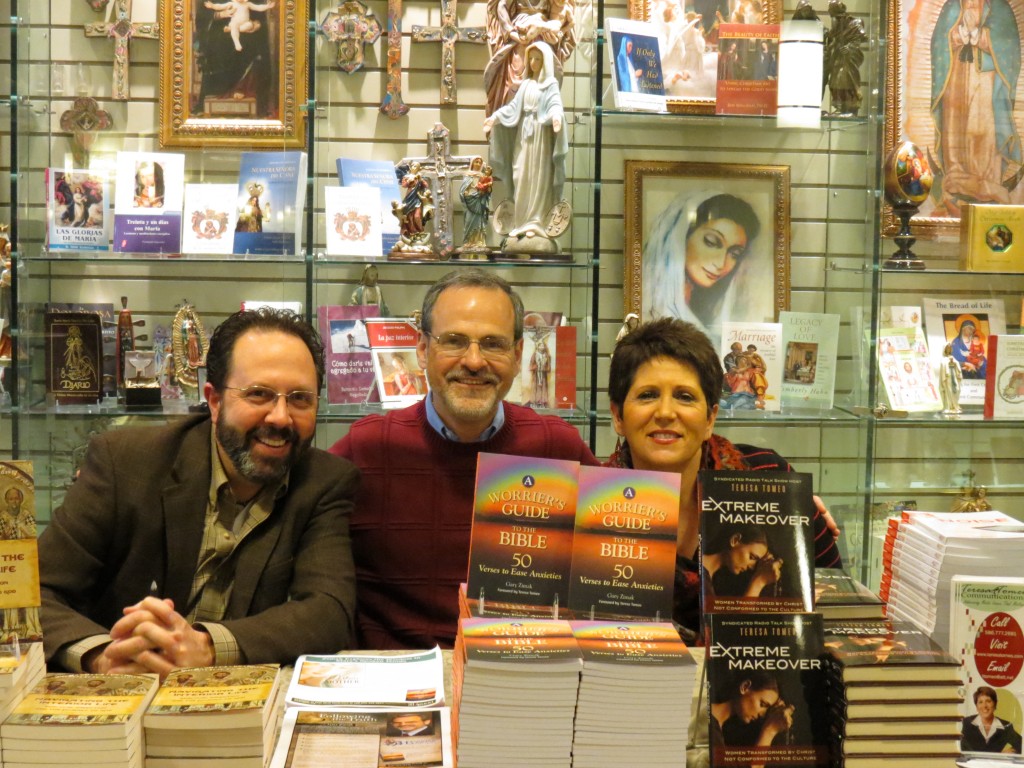 Gary Zimak (center), signs copies of A Worrier's Guide To The Bible along with author Dan Burke (left) and author and radio host Teresa Tomeo (right) at the Basilica of the National Shrine of the Immaculate Conception in Washington, DC.